Août Nation par Nation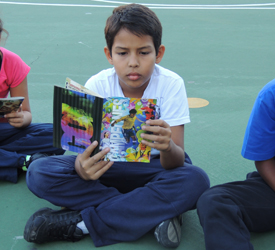 VENEZUELA — Andres didn't want to be in school. He refused to learn anything. At age nine, he couldn't read at all. His school days were wasted in constant rebellion followed by reprimands.
Then he was invited to a small group meeting sponsored by a local church, and there he received the Book of Hope. Although he couldn't read it, he was quite interested in the stories, and returned faithfully for the group meetings. He was so enthralled with his new book, he actually began learning to read by following along with the stories in the pages.
Today, Andres has chosen to follow Jesus Christ as His Savior — and his mother and siblings are also attending the small group meeting and learning more about God.
PAPUA NEW GUINEA — More than 80 Sunday school teachers and children's ministry leaders came together for training in how to use OneHope Scripture engagement programs to share the Gospel with the next generation — they're excited about our partnership with Kids' Evangelism Explosion, and the program that can help Christian children share the Good News with their friends through a special edition Book of Hope called Pathway to Hope.
BRAZIL — The Incredible Islands special edition Book of Hope is complete, and four million primary-age schoolchildren will be receiving it in the months to come. Based on the same graphics and theme as OneHope's Incredible Islands online virtual world, the book introduces children to God's Word and explains the plan of salvation.
BENIN — Agathe was heartbroken and hurting. Her mother had passed away, and she and her siblings were struggling to stay together and find hope in the aftermath. But then Agathe began attending a club at a local church and participating in the God's Big Story program. Through the illustrated cards and Bible stories, she came to know Christ as her Savior. Today, she and all her brothers and sisters are following Jesus Christ.
Thank you for reaching out around the world with God's Word for the next generation! Your online donation again today will present the Good News to even more young people — and every single dollar touches three lives with the Gospel.