Films, books and more — in Chile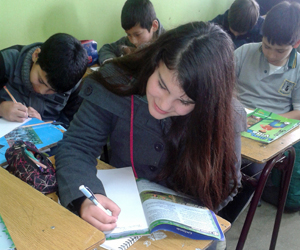 Right now you're sharing the Good News in the schools of Chile — through one of our most effective programs for Latin America, the short film En Tus Manos which means "In Your Hands".
Created by our partners at Toy Gun Films, En Tus Manos tells the story of a teenage boy who struggles with domestic violence in his home, at the hands of an alcoholic father, and is being pressured to join a gang.
The film resonates with Spanish-speaking young people in many nations, and has now been approved for use in the schools in Chile too.
43 schools are showing The GodMan film to children ages 6-10
23 schools are showing En Tus Manos to youth ages 14-18
In each case, a follow-up program — for younger children, this includes a Q&A session and a distribution of the Book of Hope. For teenagers, the follow-up encompasses several sessions of Q&A, a study of the life of Joseph from the Old Testament, Bible study and testimonies.
"Thank you for thinking about us and sending this material to our school. What I liked studying the most in the book is about treating my friends the way I would like to be treated. It has brought about a change in me. Thank you," says sixth-grader Kevin Avila.
You can help reach more young people with God's Word in Chile, and around the world, with your gift today. Remember, every dollar presents the Gospel to three young people. Please give now.