A gift of hope for a child in need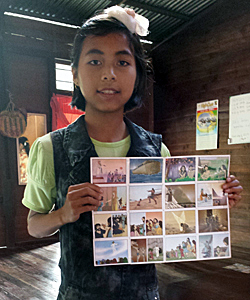 We can't give you all the details of Kaiming's story — she lives in a sensitive country in the Asia-Pacific region —
She grew up in a Buddhist family in one of the poorest nations in Asia. Her parents doted on her little brother, and they relied on her older sister, who helped with the housework and caring for the two younger siblings.
Kaiming felt lost in the middle. She constantly fought with her overbearing older sister — and she was terribly jealous of her spoiled little brother. Most of all, she felt unloved. By her parents … and by her siblings.
But then she was invited to a God's Big Story club where she learned Bible stories that introduced her to the Truth of Jesus Christ — through illustrated cards that she could keep for herself!
Today, by God's grace, Kaiming is a different girl. She is following Jesus Christ as her Savior, worshiping in her local church. She's not fighting with her older sister.
She even takes her little brother to the God's Big Story Club. She's praying her entire family will come to know the truth that only Jesus saves.
Today, we have the unique opportunity to reach multitudes of boys and girls — and their families — in primarily Buddhist nations. Cambodia, Taiwan, Thailand and other nations that we can't publicize.
Please help reach out with the Good News for children like Kaiming. Every dollar presents God's Word to three children and youth. Your gift today will make a big impact.