God's Big Story changing lives!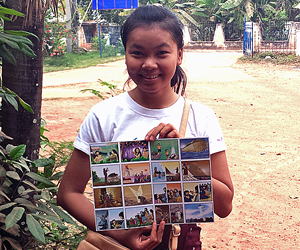 It was tough being a Christian in her Buddhist country.
Believers were a tiny minority. It could even be dangerous for pastors and church workers because of persecution and government opposition.
But when Pim heard a pastor speaking about the blessings of a life with God, she decided to accept Christ.
Then she heard about God's Big Story. Pim wanted to share the Gospel with Buddhist children. Only a teenager herself, she went to training — and launched a God's Big Story Club at her church.
Every week, she presented a series of illustrated cards sharing the major stories of the Bible, demonstrating the overarching narrative of redemption through Christ.
Pim has since launched a second children's ministry in a village 20 kilometers from her home, and a third 90 minutes away. In the third outreach, all 13 members of her God's Big Story Club have already committed their lives to Christ!
God is using your OneHope Scripture engagement programs to do great things in this country! Thank you for reaching out in love to Buddhist children and youth.