World Cup Action — All Across the Globe!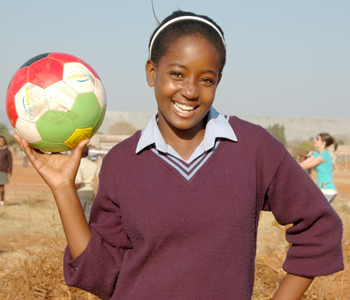 Soccer's World Cup is the most watched sporting event on planet earth —
Right now, all around the world, children and young people are caught up in World Cup excitement because the tournament is set to begin June 12 and will last until July 13.
This is the perfect time to capture the attention of young people with sports and introduce them to Jesus Christ at the same time. Every four years when the World Cup is played, OneHope partners reach out to the next generation in exciting soccer-themed outreach events which make a BIG impact.
Brazil is hosting the World Cup this year, and 5,000 partner churches have joined together to present soccer outreaches to at least 500,000 children and youth in Brazil alone. They'll be conducting sports camps, presenting dramas and special services, using The GodMan film and the Book of Hope.
We'll also be reaching hundreds of thousands of children and youth in other places around the world where our partners are using the soccer-themed special-edition Champions Book of Hope during the World Cup.
Your gift now will help reach children and youth in at least 15 different nations during the World Cup — and every dollar presents the Gospel to three young people. Thanks for sharing God's love in such a powerful way!
Africa
Benin
Burkina Faso
Cameroon
Democratic Republic of the Congo
Ivory Coast
Mali
Sensitive Nation
Togo
Latin America
Bolivia
Chile
Ecuador
Paraguay
Uruguay
Venezuela