Délivré des addictions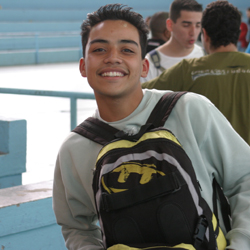 He had two passions — soccer and drinking.
Like millions of teenagers in Brazilian slums, Anderson was a hard drinker, and a fanatical soccer player. He knew that he was heading toward addiction, but he couldn't stop himself.
Then during the 2010 World Cup in South Africa, Anderson joined in some soccer matches organized by a OneHope partner church in his neighborhood, and received his own copy of the special-edition Champions Book of Hope.
He read it cover-to-cover, even filled in all the questions in the back of the book … and there discovered Christ's love for him, and the plan of salvation. For weeks he read, and re-read, the book, devouring all it had to tell him about how to be a true champion.
"This book radically affected my life," he says today.
Anderson chose to dedicate his life to Christ, and found that his new faith gave him the strength to quit drinking.
Today, he is a faithful member of the local church, where he is growing in God and constantly sharing the story of how his own life was transformed.
Thanks for sending the Good News to meet Anderson at his point of need and bring him hope for eternity! Remember, your gift again today can help reach more young people like him with the Gospel — and every dollar provides God's Word for three children and youth.