Speaking the Language of Sports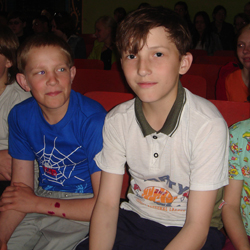 You helped translate God's Word into a new language — and it's reaching millions of young people worldwide.
It's the language of SPORTS — and kids speak it everywhere! A little boy in Russia, Artyom, speaks "soccer" fluently.
He comes from a broken home … and soccer is his passion. He was excited to attend the sports camp sponsored by our local church partners —
Artyom loved the games, competitions, contests and coaching! He made new friends with young people from the church … and when he saw The GodMan film, he was amazed —
"I wanted to know more about Jesus, so I asked my new friend, Zhenya," Artyom recalls. Zhenya gave him our special-edition Champions Book of Hope.
"It was all about Jesus — and soccer!" Artyom says.
Today, Artyom is a faithful member of his local church, and he has also shared the Good News with his mother and grandmother, who are now following Jesus, too!
This is the power of God's Word — delivered through sports ministry, to transform young lives and even reach whole families. Your gift right now will help reach millions of young people with the Gospel through various international sports outreach programs like the one which reached Artyom. And every dollar touches three young lives.
Thanks for speaking their language — the language of sports!