Mai Nation par Nation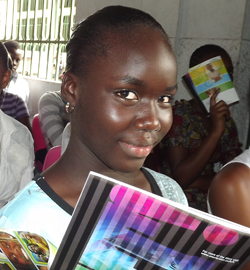 Congo — Mireille was only 16 — but already she had a reputation for being a thief, a liar and a jealous, possessive girl. She would say she only stole or lied to get the things she desperately needed (or wanted), but there were really no excuses for her selfish behavior. Then she received the Book of Hope and began to attend a local Bible Club for young people. Mireille discovered the love of Jesus Christ, and the sacrifice He made to save her … and she chose to follow Him as Savior! "Now my life is transformed!" Mireille says. "I thank the Lord for the teaching in the Book of Hope." Thank you for sending God's Word to the Congo, to Mireille. What a difference you've made in her life! 
PERU — The children of the Andahuaylas Orphanage want to say thank you! Because friends like you sent the Book of Hope, they are receiving visits from a local church group to play games, sing and share God's Word, and have lots of fun. Each child has received the Book of Hope, and many have already responded to the wonderful message of God's free gift of salvation.
RUSSIA — Thousands of Russian young people received the Champions Edition Book of Hope during the 2014 Winter Olympics held in Sochi. The response has been very good! "The book that I received, and read, is amazing!" says Vitaliy. "Thank you to those who created the book." Another boy, Ion, says, "This book helps me do the right thing. I am sure it will help me become a champion in life."
SENSITIVE REGION — Raziya is a young girl from one particular tribe, which is almost completely unreached with Scripture. Although there is very little Gospel material available in her native tribal language, Raziya speaks French, the official language of her African nation … and through OneHope Scripture engagement programs in French, she has come to know Christ as Savior!
SWAZILAND — Hope for Kids, our partnership with Kids' Evangelism Explosion, showed Adriel how to accept Jesus as her Savior. "Hope for Kids made a big change in my life! I learned to trust Jesus. The lessons were helpful as I learned to respect. Even my grades at school have increased," she says. Now she shares her faith with her friends as well, and gives them Pathway to Hope,the special edition Book of Hope.