DOUBLE Your Impact — and Reach China's "Forgotten Generation"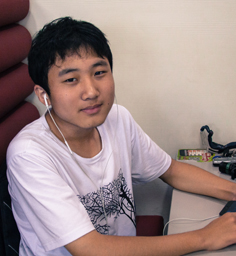 Your partnership with OneHope is making a tremendous impact.
Especially because every dollar you give before May 31 will be DOUBLED by the $500,000 China's Forgotten Generation Matching Challenge! Every dollar will present SIX young people in China and North Asia with the Good News!
This means hope for eternity for young people like Xing-Fu, who grew up in a chaotic home — his parents argued all the time, and Xing-Fu always felt tense and unhappy at home … in fact, most everywhere he went, he felt depressed and downhearted.
Then a friend invited him to a OneHope summer event — and Xing-Fu felt even worse! He couldn't understand what was happening to him … he couldn't seem to control his emotions, and wept as the leaders taught from the Book of Hope.
During the worship time, Xing-Fu's heart was racing —
But then, as the worship service was concluding … he saw a friendly face in the crowd — one of the "aunts," as Chinese Christians call female ministry workers — and Xing-Fu knew he could ask her to pray for him.
She agreed, and asked Xing-Fu what she could pray about.
"I'm a sinner," Xing-Fu told her, beginning to weep again … "Pray for me because I'm a sinner."
Now she knew exactly what to pray for! She shared the Gospel and led Xing-Fu in prayer to follow Christ as his Savior. Depression vanished, and Xing-Fu was filled with joy!
This is the power of God's Word among the next generation in China and North Asia.
For the sake of Xing-Fu and 4.2 million others like him in China and North Asia, I am asking you to consider giving another gift for the $500,000 China's Forgotten Generation Matching Challenge. We've had a good response and made progress … but we still have far to go.
Every gift given for China and North Asia by May 31 will be DOUBLED by the fund — up to the $500,000 total. This means, instead of reaching three young people with every dollar, you will reach SIX!
This is an extraordinary breakthrough we've been praying for in this region! Thank you for responding from a heart of love today.