April Nation by Nation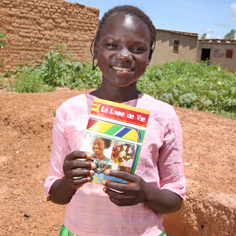 TOGO — She was the kind of child some might call a "spoiled brat." Although Solange was only eight years old, she was already a little terror. She never did what her mother asked — and she stole habitually. Even if her mother hid the money somewhere else, Solange would snoop around until she found it.
But then she received the Book of Hope and read about Jesus Christ. She was so impressed with His love for her, and His sacrifice to save her, she dedicated her life to Him. And this decision has empowered Solange to experience great changes in her life.
Today, she and her mother attend church together. Solange has stopped stealing and has become more helpful around the house. Most importantly, she is learning to follow Jesus, and every day becoming more like Him.
HINDU REGION — Raj and Rejina are 11-year-old twins whose grandfather is the most powerful witchdoctor in their village. All their lives, they lived under the bondage of demonism and idol worship … until they were invited to a showing of The GodMan film. There, they discovered the truth of the Gospel and chose to follow Jesus! Their family is opposed to the choices they made — please pray for God to strengthen them in their faith, and for their family to come to know the Lord, too.
NORTH AMERICA — Mika, a teenager who is sharing the Native American Book of Hope with friends on the Sioux reservation, reports, "Many of my friends are dealing with addiction, pregnancy, family problems, and suicide. This book helps them think through their situation and find hope in our Lord and Savior Jesus Christ. Thank you so much for providing such a powerful resource for campus ministry!"
PERU — Elber and his friends were supposed to be learning Spanish in school, but their native language was a dialect of Quechua, the language of their tribe of indigenous people in the Andes. This is why Elber was delighted to receive Kausak Libro, the Book of Hope in Quechua. He read through the entire story of Jesus and chose to give his life to Christ! Today, Elber is happy to tell his friends and family about his new faith in Jesus.
CHINA — Friends have donated a matching challenge fund that will DOUBLE every gift to reach China's next generation with the Good News! Give now, and every dollar will present the Gospel to SIX young people in China. Thank you!