Russia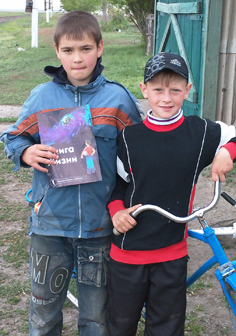 His earliest memories weren't of mom and dad, brothers and sisters … rather, Gavriil knew the crowded halls of the orphanage, the other homeless children, their caretakers.
The orphanage provided food and clothing, and sent him to school. But no one gave him a moral foundation, or taught Gavriil about honesty, integrity, character, and what it means to be a man. He lied and stole — he saw nothing wrong with it. Everyone did it.
Then a Hosanna Plan team came to the orphanage to do a sports camp with the children — they also brought the Book of Hope. Gavriil was amazed by the happy smiles and good cheer of the young people on this team. What was so different about them?
They were happy to tell him! Their lives were different because they were following Jesus … and Gavriil could meet Him, too. Gavriil hungrily read the Book of Hope and chose to dedicate his life to Christ.
Today, he says he doesn't know what would have happened to him if he hadn't met this team.
"They showed me a new life that I could have," he says.
His new life in Christ has transformed Him!
Hosanna Plan Update:
15,000 communities reached —
2,300 churches planted!
Teams from our partner churches in Russia have reached 15,000 communities, and planted 2,300 churches using OneHope Scripture engagement programs you helped provide! Pastor Edward Grabovenko, bishop of the Russian Church of Christians of Evangelical Faith, is a long-time partner of OneHope. Their Hosanna Plan effort now has 42 teams, with 800 volunteers who give "One Year for Jesus." They are on track to plant 10,000 churches, and help present every child and youth in Russia with God's Word!