Incredible Islands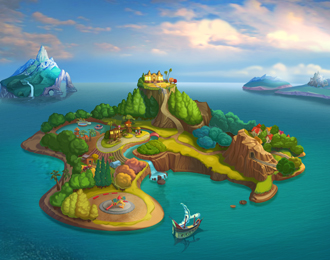 You're sharing God's Word through Incredible Islands.
Initial response to Incredible Islands, our brand-new online "virtual world" has been fantastic!
The program was rolled out in the United States last month — and the Spanish-language version will be in testing next month with a potential launch next summer.
Incredible Islands is a new paradigm in children's ministry that harnesses the power of technology to truly reach 21st century children.
The program incorporates a Scripture-rich online game with a Sunday School or Bible club curriculum that lets children's pastors tailor activities and direct and monitor their students as they learn and play.
As in other online virtual worlds, children playing Incredible Islands can customize an avatar, decorate a house, play games, compete on a team, and communicate safely with others. But with Incredible Islands, they also:
• Engage with Bible Stories
• Memorize Scripture verses
• Learn to pray
• Practice generosity'
• Participate in community
• And more!
This program isn't just about virtual reality. Children's pastors and teachers can integrate the real world and the virtual world by assigning weekly Missions and Quests that coordinate with and reinforce that week's lesson.
"Missions" can be carried out while playing online, and "Quests" are primarily real-world activities. Both are rewarded!
We're excited to see how Incredible Islands intentionally extends the church weekend experience into the home during the week in a way that speaks to children, enhances their learning, and partners with parents who are helping their children engage with God's Word.
Your generosity makes these innovative Scripture engagement programs possible. Thank you for standing with us!