Apporter l'espoir en 2014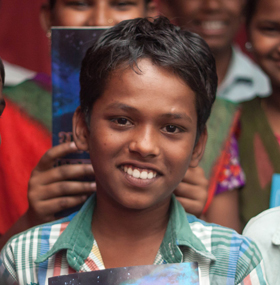 2013 was amazing!
Thanks to the prayers and concerted efforts of friends like you, and through God's great love for the children, we are actually going to surpass our initial goal of reaching 92.5 million in 2013 with the Good News.
Thank you to everyone who responded to the 70/20 Countdown Matching Challenge with your prayers and generous gifts to help reach the final 20 million children in the last 70 days of the year.
Your faithfulness and compassion made a dramatic impact …
… and now you can be a part of the next leg of our journey toward reaching every child and youth on earth with the Good News: in 2014, our God-given goal is to present the Word to 93,500,000 young people.
We're stretching our faith together in 2014 to proclaim God's Word to young hearts from Argentina to Austria, from Tanzania to Thailand … and even some sensitive countries we can't mention by name!
Our Faith Plan
Where will you bring the Gospel this year?
India
Nigeria
Brazil
Russia
Ghana
How many children and youth will you reach there?
24,847,000 young people
4,030,000 young people
8,550,000 young people
5,100,000 young people
1,880,000 young people
… and many more!
Here's how you can help:
PRAY. The ministry of OneHope moves forward through our prayers together. Pray for our teams, for the churches and partner churches and ministries that distribute the Word, and for the children and youth and their families.
 GIVE. Thanks to God's faithfulness to keep doors open and costs contained, every dollar still reaches THREE young people with the Good News. Your generous gift to launch the new year of ministry will make a wonderful impact!
Thank you for your prayers and faithful partnership. You are a tremendous blessing.