Mohini cried out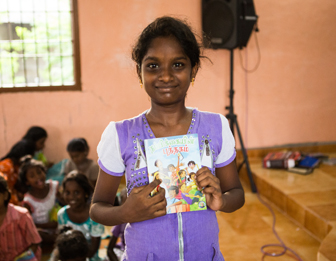 Mohini cried out … and the Savior answered!
She wasn't like the other girls — she never had been.
Mohini couldn't stand up straight or walk normally. She slumped, and she drooled. She suffered with a learning disability and emotional problems — she often attempted to communicate through ghastly screams.
It was wearing her family out.
But like most impoverished people of India, they couldn't afford a doctor. They trusted the priests and rituals of their traditional faith, pleading for help from the gods. But help never came.
Until one day … when a local church team delivered the Book of Hope to Mohini and her mother.
After reading about Jesus, and His power to heal, Mohini's mother decided to come to church and ask the pastor to pray for Mohini …
… within days, Mohini was standing straighter, walking normally, and screaming less.
As mother and daughter attended church together, Mohini continued to improve.
Today, she and her mother are both following Christ as their Savior, and the rest of the family is attending church with them, too.
They're all grateful for the healing Mohini is experiencing!
Thank you for sending God's Word for India's next generation. You're helping to transform lives.