UN MILLIARD atteint par l'Évangile !!!
Together, by God's grace and provision, we have accomplished an exciting milestone in our ministry's 27-year history!
On February 19, 2014, in China —
Liu Chunxue* became the ONE BILLIONTH child to receive God's life-transforming Word from OneHope!
This 15-year-old girl received the Book of Hope during the Spring Festival outreach with a partner church and our Russian missionary brother Dima.
Almost 22 years ago in Russia, Dima was immersed in a culture where drugs and alcohol usage was the norm, but after receiving his Book of Hope, he gave his life to Christ. Today, after planting three churches in Russia, he is ministering in China.
What a powerful testimony to the eternal gift you gave him over 20 years ago … He is now giving the same gift to the next generation in China!
Please be praying for Liu Chunxue and her family to be impacted by God's Word, and for our local church partner in China.
You helped make this amazing ministry milestone possible through your outstanding love and generosity. Thank you for faithfully standing with OneHope to reach the next generation with the Gospel!
On behalf of Liu Chunxue and the next billion young people to be reached, please join with us again today and give a generous online donation to continue reaching young people with God's life-transforming Word all across the world. Every dollar reaches three!
Thank you so much for your prayers, love, support, and faithful partnership. Today, we celebrate what God has accomplished and look forward to what He will do!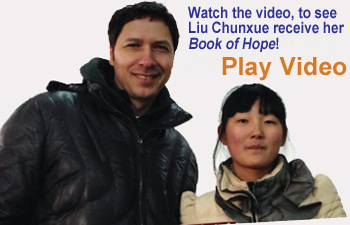 Celebrating Milestones through the years …
50 MILLIONTH
Tiffany Solano Arias — Peru — 1999
100 MILLIONTH
Misha Prokopiev — Russia — 2001
250 MILLIONTH
Delasi Afari — Ghana — 2004
300 MILLIONTH
Deyse Souza — Brazil — 2005
400 MILLIONTH
Deepa* — India — 2006
500 MILLIONTH
James Alexander Loaiza Avenidano — Colombia — 2008
600 MILLIONTH
Ruth Sara Monteau — Haiti — 2009
750 MILLIONTH
Matthew Banda — Zambia — 2011
1 BILLIONTH
Liu Chunxue* — China — 2014
What does ONE BILLION look like?
If one book was given per second, it would take at least 31.5 years to distribute to one billion children.
If one billion children were standing next to each other, the length of the line of children would make it around the circumference of the earth almost 23 times!
*Indicates name has been changed for security reasons