You Woke Her Up … to New Life in Christ!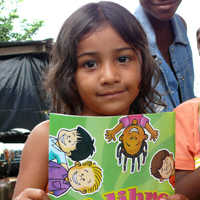 She was only 10 years old … but she knew the story very well.
Even young children in Colombia are familiar with the drug trade. Sometimes they're used as couriers for gangs that want to keep their drug deliveries under the radar.
As Kalida watched the short feature film, En Tus Manos, she understood what was happening to the protagonist as he was pressured to join a gang — and to prove his loyalty by using a gun.
The film was created by our partners at Toy Gun Films and speaks to the heart-felt needs of young people across Latin America. It also shows them a way out of their struggles, through new life in Jesus Christ.
"It is like a wake-up call for people to see the need for change," Kalida says, after watching the film.
"I have learned many things, such as respect, love, and peace. I believe that the Bible can be used to change the world."
She told her mother what the film had taught her, and her mother agreed that Jesus is the Savior of all.
"Now we're both learning from Him!" Kalida says.