You met them in their deepest need — and brought them hope!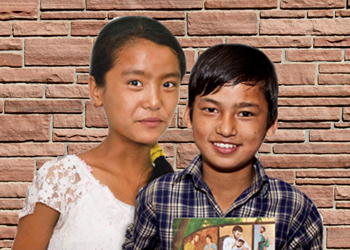 Their father passed away unexpectedly. Nothing in their young lives had prepared them for this grief …
Thirteen-year-old Menku and her 11-year-old brother Marut were brokenhearted — and afraid. In their home country of Nepal, the siblings were being raised in a Hindu home, but they found no comfort in their faith. Menku especially missed her father … and sank deeper into depression.
They had no hope — until you reached out to them.
Then a friend invited them to the local church for a showing of The GodMan film. Menku and Marut were amazed by what they saw: one Creator God, who made everything … who made them — and loved them.
Menku and Marut both chose to commit their lives to Jesus Christ. Today, they are involved in their church in the OneHope Bible Club, growing every day in their new faith.
Absolute Truth in a land of relativity …
Thank you for sending the love of Jesus Christ to the children of Nepal —
Only 57% of the population is literate — just 46% of females can read. While the Book of Hope makes an impact, a visual program like The GodMan can also make a big difference, especially for those who don't read.
You're bringing life-transformation!
Menku and Marut's story proves that … and it once again shows the power of God's Word to transform.
Thank you for helping us present the Gospel to children like these and see lives transformed all over the world. Remember as you give today, every dollar presents the Good News to three children and youth.