Bible App for Kids not just for kids


Kids aren't the only ones getting something out of the Bible App for Kids. The app, which recently celebrated more than 2 million downloads in countries around the world, is helping entire families experience The Story.
And now, parents are getting something designed just with them in mind. Knowing that parents are getting more questions on Bible content than ever before, OneHope, in partnership with YouVersion, has developed resources for parents to further engage their children with the Bible stories featured on the app. Using the app as a starting point, these resources will equip parents both to ask and answer questions, and extend their children's Scripture learning beyond the screen. Verses, prayer points, and and engagement activities will be tools for parents to leverage to spend quality time with their kids over God's Word.
The Bible App for Kids launched its seventh story in the series this week. "A Forever Promise" is the story of Revelation, bringing the app full circle from its start in Genesis.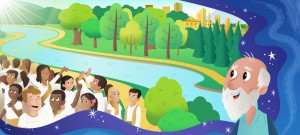 One parent shared that, "My son has spent time on the app every day since Thanksgiving Day when I downloaded it for him. Yesterday he told me 'Mom, you really have no idea how cool this is. I read all the stories they have and can't wait for more.'"
More content is planned for regular release, and the app will ultimately contain 40 fully-animated Bible stories that share the meta-narrative of the Scriptures. Translations into other languages have already begun.