Kanya's Story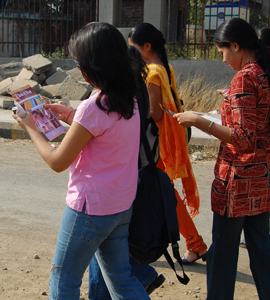 Kanya felt alone, so alone. And yet people were hunting for her. The same people who had murdered her parents, leaving her orphaned in this large world. They were going to find her and kill her too. Even though those people were her own family, relatives who should love her rather than letting a property dispute lead them to senseless killing. Whatever property they had been fighting over didn't matter compared to the life or death struggle she now faced. If India wasn't large enough to hide her, then death might be the easier way out. What did she have to live for anyway?
17 year old Kanya was close to committing suicide until a lady intervened and offered her shelter. Shortly after, Kanya became sick with a severe fever and a pastor stopped by to give her a teen edition Book of Hope. The book fascinated her, lifting her out of her depression and making her curious about Jesus. She went back to the pastor to learn more, and accepted Christ into her life.
Two months later, she was baptized and is now a member of a local church. Kanya has found hope and a reason to live. Even though the death threat from her relatives still hangs over her head and her circumstances have not changed, her outlook has. God had saved her from the very edge of death, and given her life eternal. She will never need to feel alone or afraid again.
Please pray for Kanya's protection, and for teens like her who are considering suicide to find the hope that will save them.